No.1 Hit Adventure Game
Web of Deceit: La Viuda Negra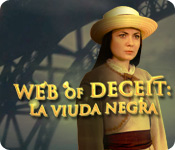 ¡Desenmaraña la red de engaños y detén a la viuda negra!
Cuando tu tren se detuvo en Andsville' lugar en el que la viuda negra acecha' te envolvieron en una red de engaños.
More Adventure Games
Send your inner adventurer off to explore exotic locales and solve our greatest Adventure Games.