No.1 Hit Adventure Game
Royal Detective: El Señor de las Estatuas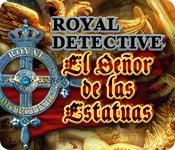 ¡Salva a la villa de Martlet!
Salva la sitiada villa alpina de Martlet y rescata a sus habitantes de las misteriosas estatuas vivientes en este emocionante juego de aventuras y objetos ocultos.
More Adventure Games
Send your inner adventurer off to explore exotic locales and solve our greatest Adventure Games.