No.1 Hit Hidden Object Game
Strange Discoveries: El Pico de Aurora Edición Coleccionista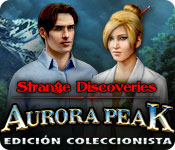 ¡Descubre un plan maligno en el tranquilo pueblo del Pico de Aurora!
Has llegado al tranquilo pueblecito del Pico de Aurora para investigar unos misteriosos cristales que han aparecido en la zona' ¡pero el plan maligno que descubres allí podría poner en peligro al mundo entero!
More Hidden Object Games
Spot hidden objects and solve puzzles and mysteries in lush, eye-catching scenes.