No.1 Hit Collector's Edition Game
12 Labours of Hercules IX: A Hero′s Moonwalk Collector′s Edition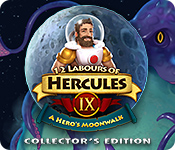 The first ever time-management adventure in space
Get on board the spaceship with Hercules' explore distant planets' find extraterrestrial life and save the galaxy from a dangerous monster!
More Collector's Edition Games
A Collector's Edition includes more than just a game. It offers exclusive content that you won't find anywhere else!