No.1 Hit Collector's Edition Game
Grim Facade: The Artist and The Pretender Collector′s Edition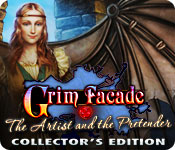 A tyrant has taken over Florence' destroying priceless art!
Leonardo da Vinci needs your help! A tyrant has conquered Florence and he is destroying all works of art and science!
More Collector's Edition Games
A Collector's Edition includes more than just a game. It offers exclusive content that you won't find anywhere else!