No.1 Most Popular Online Game
Algerian Patience Solitaire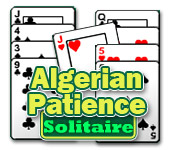 Ikke bare et kortspil som du kender dem.
Spil kabale med større udfordring. I dette spil spiller du ikke med et men to sæt spillekort og dermed større sværhedsgrad!
Players : 4
Play online thousands of free casual games in our game collection! Visit us every day for a new game release you can play!
Most Popular Online Games