No.1 Most Popular Online Game
Grid 16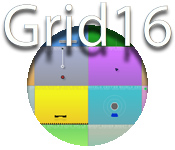 Come unstuck with this 16-in-1 game!
Test your reflexes and logic! Keep up with Grid 16 as it rifles through a broad spectrum of simple games with increasing speed!
Players : 5
Play online thousands of free casual games in our game collection! Visit us every day for a new game release you can play!
Most Popular Online Games